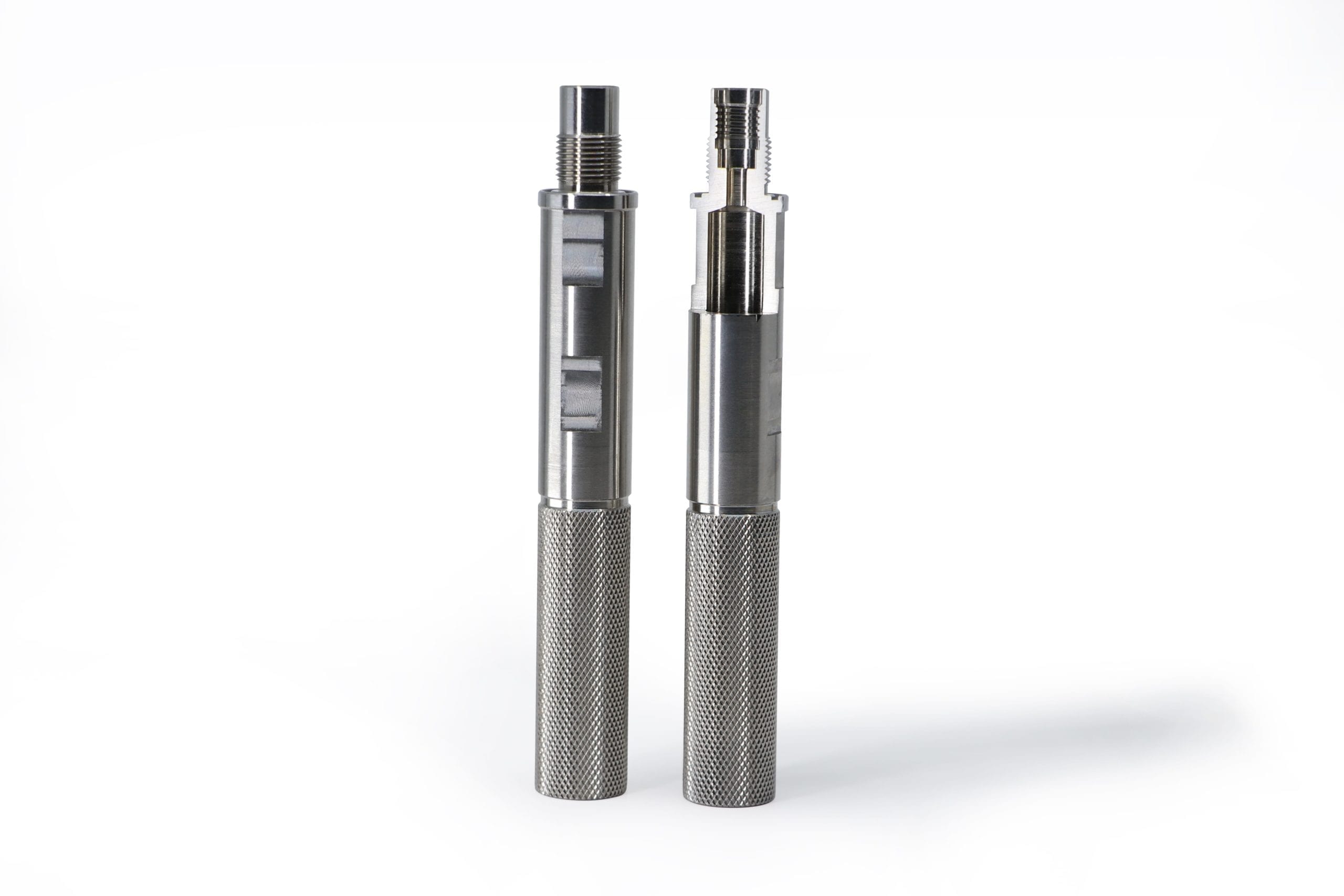 At
C&M Precision Tech
, we are a leading provider of high integrity CNC lathe machining services to a diverse mix of demanding industries. With an energetic staff of technically astute manufacturing professionals, we have the ability to handle jobs of any size or geometric complexity while meeting firm delivery commitments.
Our facility is equipped with a wide range of high-tech, multi-axis machinery with an impressive array of quality and productivity enhancing features, including automated bar feeds, live tooling for milling and cross drilling, as well as secondary spindles for back working operations. Able to work with all materials, including standard metals, high-performance alloys, as well as plastics, we have the capacity to turn parts measuring up to 4.0" in diameter while achieving tolerances of ±.0001" with excellent surface finishes. We have the resources to implement dedicated work cells that cost effectively manage processes with demonstrated flexibility and efficiency.
We stand firm in our commitment to quality and hold a number of credentials, including ISO 9001 and AS 9100 certifications and ITAR registration. We also supply parts that satisfy the requirements for all PPAP levels. Along with custom stocking programs, we offer Just-In-Time (JIT) delivery and EDI services to accommodate your inventory management strategies. More detailed information about our comprehensive CNC lathe machining services can be found in the table below. Contact us at any time for a quote on your next project.
CNC LATHE MACHINING SPECIFICATIONS
Machining Processes

Milling
Drilling
Precision Boring
Turning
Threading Tapping

Thread Milling
Knurling
Counterboring
Countersinking
Reaming
Parting/Cutting
Facing
Pick Off Capabilities
Equipment

CNC Lathes

(3) Miyano ABX-51TH3
(3) Miyano ABX-51SY
(2) Miyano ABX-645Y
(4) Eurotech B.65-Y2
(2) Eurotech B.65-Y3
(3) Tsugami MB38-SY
Hardinge CS-GT
Hardinge SG-42

Machine Shop

Rockwell Band Saw
Sweco Finishing Mill
Beere Tipshear
(3) Hardinge Hand Screw
J.F. Burns Chamfering Machine
Kalamazoo Band Saw
JET Engine Lathe
(2) ProTrak Vertical Miller
(4) Bridgeport Vertical Miller
Sunnen Honing Machine
Harig Surface Grinder
Clausing Covel Surface Grinder
Agathon Surface Grinder
(2) Kira CNC Vertical Miller
Equipment Capabilities

CNC Control Capabilities
Bar Feed
Milling

CAD Design Services
CAM Programming Services
Machinery Axis

5th axis
Live Tooling
Part Diameter

Up to 2-3/4 in Through the Spindle
Up to 4 in when Chucking
Tolerances

± .0001
Materials (Metals)

Alloy Steels
Stainless Steel
Carbon Steel
Brass

Alum
Copper
Delrin
All Plastics
Secondary Services Offered

Assembly
Parts Washing - Vapor Degreasing
Laser Marking
Laser Welding

Approved Vendors For:

Grinding
Plating
Passivating
Heat Treating
Anodizing
Production Volume

Min
500
Max
1,000,000+

Customized Inventory Stocking Programs:

J.I.T
KanBan
EDI Inventory Controls

Specialty Production Shop
Low Volume
Medium Volume
High Volume
ADDITIONAL INFORMATION
Industry Focus

Aerospace
Industrial Automation
Medial
Microwave
Optics
Copper Consumable Market
Hardware & Plumbing

Flow Control
Agricultural
Electronic
Military
Defense
Robotics
Oil & Gas
Industry Standards

ISO 9001
AS 9100

PPAP All Levels
ITAR Registered
File Formats

AutoCAD (DWG,DWZ)
DXF
CADL
PDF
SolidWorks (SLDPRT,SLDDRW,SLDDRT)
X_T Parasolid Text

X_B Parasolid Binary
SLDPRT SolidWorks
TPT AutoDesk Inventor
STL
ProE
STEP